Lake Camping Berau
Comfort-pitches with lake view - Varied camping experience the whole year long!
On our comfort 4* campsite, which is located in a private bay directly at the Wolfgangsee, you'll find our spacious pitches (up to 100m ²) in the middle of a cozy environment with meadows and shady trees. The pitches with electricity, water and partial sewage connection, cable TV and fast free Wi-Fi provide comfort and the perfect feel-good atmosphere.
The varied offer includes modern equipped sanitary facilities with the highest hygene standards, a barrier-free area, private bathrooms, its own gym and a cozy restaurant with excellent cuisine and a pizzeria. In our shop with its own bakery, you'll find daily fresh pastries, regional specialties, mixed goods and camping supplies. Kayaks, SUP boards and MY ESEL e-bikes, Vespas and electric scooters are perfect for exploring the area around Lake Wolfgang.
Our little and young guest can go wild on our big adventure playground!
There are also nice offers for those who want to stay with us for 10 months or during the winter, because we're open all year! – Find out more about our long term camping packages!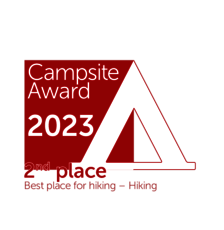 Frühling - Herbst
Kommt uns einmal im Frühling oder Herbst besuchen! Dies ist die schönste Zeit am Wolfgangsee. Echtes Naturerlebnis am Campingplatz, in unserem Berau Spa relaxen und die Region genießen! Hier ist einiges geboten! Die unzähligen Wanderwege um den See und auf den Bergen ermöglichen Euch ein einzigartiges Naturerlebnis.
Familien
Für unsere kleinen Gäste gibt es wunderbare Möglichkeiten, sich auf unserem großen Erlebnisspielplatz auszutoben.
Wintercamping
Auch Wintercamper finden bei uns ein tolles Angebot: Wir haben ganzjährig geöffnet und unsere
Winter- und 3-Jahreszeiten-Campingpackages sind perfekt darauf zugeschnitten.
Ausgebucht?
Mögt ihr es gerne ein bisschen ruhiger oder ist unser Seecamping schon ausgebucht? Dann fragt uns gerne nach dem Mini Campingplatz beim Das Franzl (Buchung nur auf Anfrage).
Nachhaltigkeit ist uns ein großes Anliegen. Welche Maßnahmen wir gesetzt haben und welche Projekte wir unterstützen, um unseren ökologischen Fußabdruck so klein wie möglich zu halten, erfahrt Ihr hier!
Saisons

PEAK SEASON

PS

PS

1.7. - 31.8.

MID SEASON

MS

MS

15.5. - 30.6.
1.9. - 20.9.

LOW SEASON

LS

LS

1.1 - 14.5
21.9 - 31.12.

PRICELIST 2023 - CAMPING

Campingpitch (caravan or tent)

Campingpitch incl. power

Including 4 kwh (6 amp) & TV connection

€ 21,40

€ 16,50

€ 13,10

Campingpich excl. power

incl. TV connection

€ 16,90

€ 10,90

€ 7,80

Additional fee (Lake view)

Categorie A

€ 4,50

€ 4,50

€ 0,00

Additional fee (90/100m²)

Categorie B & C

€ 3,80

€ 3,30

€ 0,00

Persons

Shower included

Adults (starting with 15 years)

€ 13,40

€ 9,40

€ 5,50

Kids up to 14 years

kids up to 2 years free!

€ 8,30

€ 5,00

€ 2,80

various

private Bathroom

(toilet, shower or bathtub & Sink - min. 3 nights!)

€ 25,00

€ 19,50

€ 12,00

Animals

€ 7,50

€ 6,50

€ 3,50

additional tent / car

additonal cars must be parked on the pitch - we don't have other parking possibilites available!

€ 7,00

€ 5,00

€ 0,00

Citytax

0-14 years for free!

€ 2,40

€ 2,40

€ 2,40
The Wolfgangsee with its amazing landscape is the ideal place for recovery and relaxation as well as spending an active and sportive holiday. Our lawns with jetty offer everything you need for a relaxing day at the beach. The gently sloping shore is also ideal for families with children.
Our tip: rent a kayak or stand-up paddle board directly at the bathing area and explore the beautiful shores of Wolfgangsee!
Wellness at Berau
New Berau sauna with infinity pool
Our brand-new spa with a view of the lake is a perfekt rtreat to find peace and calmness or to simply plan your next excursion in a quite surrounding. Maximal capacity 10 visitors per time slot.
Our sauna slot hours are 9 - 12 / 12 - 15 / 15 - 18 / 18 - 21
Price per person 22,- (3h)
Gym
Our fitness room with combi trainer, treadmill, cross and home trainer is available to all guests free of charge. With the smart card, you can always get in - comfortable without prior notification to additional sports pleasure.
Massage and beauty treatments by Jasmine Mükisch at
Tap here to finde your perfekt treatment to relax.
For more informations or an direkt appointement please contact Jasmine Mückisch +43 676 783 09 04!
Also worth a visit: the EurothermenResort Bad Ischl (12km)