"Heisse Brettlbrote"
(our version of grilled cheese sandwiches)
& Tarte Flambee
... crispy and freshly ovenbaked... that's how we like it best!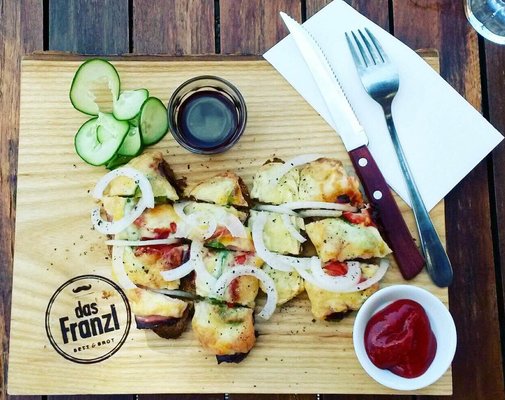 Enjoy a delicious break!
As the name "Das Franzl - Bett & Brot (Bed & Bread)" already says, everything here revolves around the topic of bread, but not in the form of a classic "Brettljause", but interpreted in a new and exciting way. The hot "Brettlbrote" are prepared with loads of love with the bread of an traditional farmer-bakery just around the corner, the freshly made Flammkuchen with ingredients from the region and the extraordinary atmosphere in the Franzl invite you to enjoy!
We are closed from 7.1. - 2.4. 2020
Brotzeiten at Das Franzl
closed from 7.1. - 2.4. 2020
July & August:
MO, TUE, SAT, SON: 13.00 - 19.00
FR Burgerpicknick: 16.00 - 21.00
September
MO & THUR-SUN: 14.00 - 19.00
April - June & October - December
THUR - SUN: 16.00 - 19.00