"Heisse Brettlbrote"
(our version of grilled cheese sandwiches)
& Tarte Flambee
... crispy and freshly ovenbaked... that's how we like it best!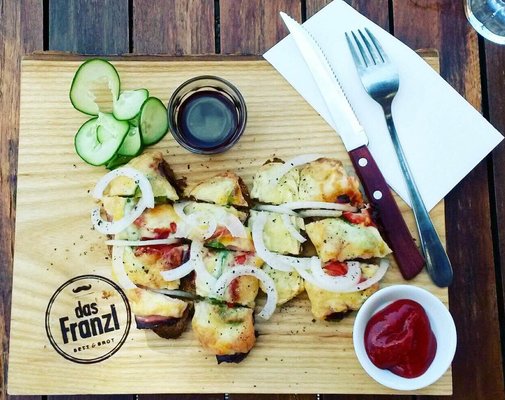 Enjoy a delicious break!
As the name "Das Franzl - Bett & Brot (Bed & Bread)" already says, everything here revolves around the topic of bread, but not in the form of a classic "Brettljause", but interpreted in a new and exciting way. The hot "Brettlbrote" are prepared with loads of love with the bread of an traditional farmer-bakery just around the corner, the freshly made Flammkuchen with ingredients from the region and the extraordinary atmosphere in the Franzl invite you to enjoy!
We are closed from 7.1. - 2.4. 2020
Regionalität und Nachhaltigkeit sind uns ein großes Anliegen, mehr Infos dazu findet Ihr hier.
Ein echtes Highlight für Groß und Klein sind unsere Alpakas und Miniponys, sie sorgen immer für gute Laune und ganz besondere Urlaubsfotos!
Veranstaltungshighlights 2020 im Das Franzl:
19.06. Großes Sonnwendfeuer:
Salzkammergut pur, mit Livemusik und Holzknechtnockn, ab 19.00 Uhr
31.07. Rolling Franzl:
5. int. Kabeltrommel-Weitrollwettbewerb, mit Livemusik und Franzl-Burgern, ab 18.00 Uhr
Jeden Donnerstag von Mai - Oktober: Essen & Trinken zwischen Alpakas von 16.00-17.00 Uhr
Jeden Freitag im Juli & August: Burger-Picknick im Garten von 16.00 - 21.00 Uhr
Frühstück:
täglich von 8 - 10 Uhr, auch für externe Gäste (13€ p.P.) Bitte um Tischreservierung unter +436601645273
Kontakt:
Schwarzenbach 9, 5360 St. Wolfgang, für Buchungen und alle Fragen sind wir gerne erreichbar unter +4361382543 oder office@berau.at
Brotzeiten at Das Franzl
July & August:
MO, TUE, SAT, SON: 13.00 - 19.00
FR Burgerpicknick: 16.00 - 21.00
1.-20. September
MO & THUR-SUN: 14.00 - 19.00
April - June & 24. September - December
THUR - SUN: 16.00 - 19.00